Classes at Lakeshore
Everything you need to know about lessons.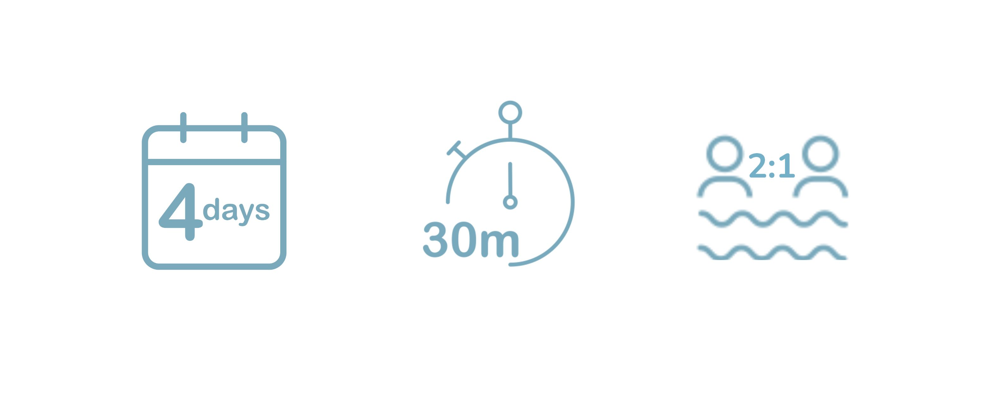 Miss Marissa at Lakeshore Swim School offers private and semi-private swim lessons for ages 3 through adult. (If you have a child under the age of 36 months, check out the information below for my Little Lakers Class!) Life saving water survival skills and water safety are taught alongside swimming technique in each lesson. I create goals for each student after their first day in addition to daily custom lesson plans as the week progresses.
Summer sessions are formatted as follows:
1 session consists of 4 lessons held across consecutive days.
Lessons for students ages 3 and older last 30 minutes.
Class sizes are limited to a maximum of 2 students. If you have 2 or more children they will be grouped together in a private family lesson. If you have a single child over the age of 3, there is potential they will be grouped with a child of similar ability unless you indicate private lessons on your registration form.
All lessons are held at a private pool near Oriole Field in Ludington, Michigan.
Teaching Style
I describe my teaching style as firm, but with warmth, a lot of patience, and positivity. I believe children learn well through play. My lessons are often taught in the form of games or challenges, and with activities that are designed around their individual interests. You will often hear me ask my students for their thoughts or what they are interested in learning at their next lesson. I also give my students a chance to explore the water through play as a reward for the hard work they put in during lesson time.
Other Lesson Formats
I offer group lessons if there are several families who would like to attend class together. Please notate this on your enrollment form, and I will contact you so we can make group arrangements. Please be aware that group lesson times may be limited in availability.
I also offer lessons on a custom schedule. Examples of a custom schedule include: ongoing throughout the summer, two days a week for a month, etc. Please be aware that these do include a higher rate, and are limited in availability.
Little Laker Classes For Children 3-35 Months
These swim readiness classes are for children under the age of 3 and their caregivers. Classes will include water exploration and familiarization, as well as introduction to water safety. Caregivers will join their young child in the water once a week for 30 minutes of fun. Groups are limited to 6 adult & child pairs.
Other Information
Please see the Registration page for information on session dates, how to enroll, and costs.
Please check the FAQ page if you have any questions regarding classes.